Monitoring Centre. Eiffage Energía has a new and innovative Control Centre, located at the company's headquarters in Albacete. The solar plants that are maintained by the Operation and Maintenance (O&M) department are controlled from this centre. Specifically, assets are managed. From the operational point of view, where the monitoring and control task requires a quick reaction; as well as from a preventive and predictive point of view. In this case, the behaviour of each installation analysed in greater depth.
Operation of the Monitoring Centre
Operation Area. When events come into the central warning system, the monitoring centre staff perform a first analysis of the alarm. Subsequently, plant staff are notified to attend to it quickly. The centre thus coordinates and advises plant personnel for corrective action. Always with the highest level of security.  This function is of vital importance for O&M teams, as they have immediate information on the plant situation. This results in greater security when carrying out the work. It also helps to better organise resources. And, as a consequence of the above, the carbon footprint is reduced and the plant can be as efficient and profitable as possible. Subsequently, those responsible for the service carry out an analysis together with the customer. The objective is to detect defects or anomalous behaviours that affect the plant's performance.  The Monitoring Centre also works with weather forecast tools. These enable tasks to be organised more effectively for the plant. For example, in adverse weather events, these tools enable the centre to act quickly, ensuring that the facility and the workers are safe. The latest technologies are therefore used that enable the different systems to be viewed; events can also be captured automatically using artificial intelligence. Currently, Eiffage Energía has two other monitoring centres in Spain. The one in Albacete groups the largest number of plants. The purpose of this resource is therefore to centralise remote control and monitoring tasks worldwide.
Operation & Maintenance Department
Eiffage Energía's O&M Department falls within the industrial maintenance line of activity. It has the most advanced resources on the market and a team of highly experienced professionals. Professionals who work to offer the best service to customers. All of these are key ingredients in the continued expansion and growth of the company and this sector in particular. Skills, knowledge and experience. These are three of the values that Eiffage Energía applies to perform each of the operation and maintenance functions in Industrial Plants and Power Generation Plants. Thanks to its notable experience in maintaining photovoltaic plants in Spain and abroad, it offers multiple services: • O&M Full Service type. • Monitoring. • Preventive, corrective and productive maintenance. • Continuous improvement of the plant's devices and facilities. • Technical Service for different brands of Investors and Trackers. • Operation and Maintenance in High Voltage. • Service 24 h / 365 days. • Maintenance Management (CMMS). • Thermography / Aerial thermography. • V-I curves. • Environmental and panel cleaning. • Spare parts management. At this time, the O&M department is responsible for maintaining 2.5 GW of photovoltaic power. It is working for large customers such as: Iberdrola, T-Solar, Sonnedix, Reden, Saeta Yield, Clere, Veam, X-Elio, OPDEnergy and Elawan.
High Voltage Lines, substations and Transformation Centres
One of this department's activity lines is the maintenance of more than 600 substations in Spain. It is responsible for the comprehensive maintenance of the most important generation, distribution and electricity transmission nodes, also integrating its high voltage lines.
At the moment about 7,000 support services are being provided. Which means more than 2,000 km of lines throughout the Spanish territory.
On these lines 90% of the maintenance is carried out using the latest-technology drone equipment. Customers therefore have security; 360º maintenance and exhaustive reviews, increasing the effectiveness of preventive maintenance.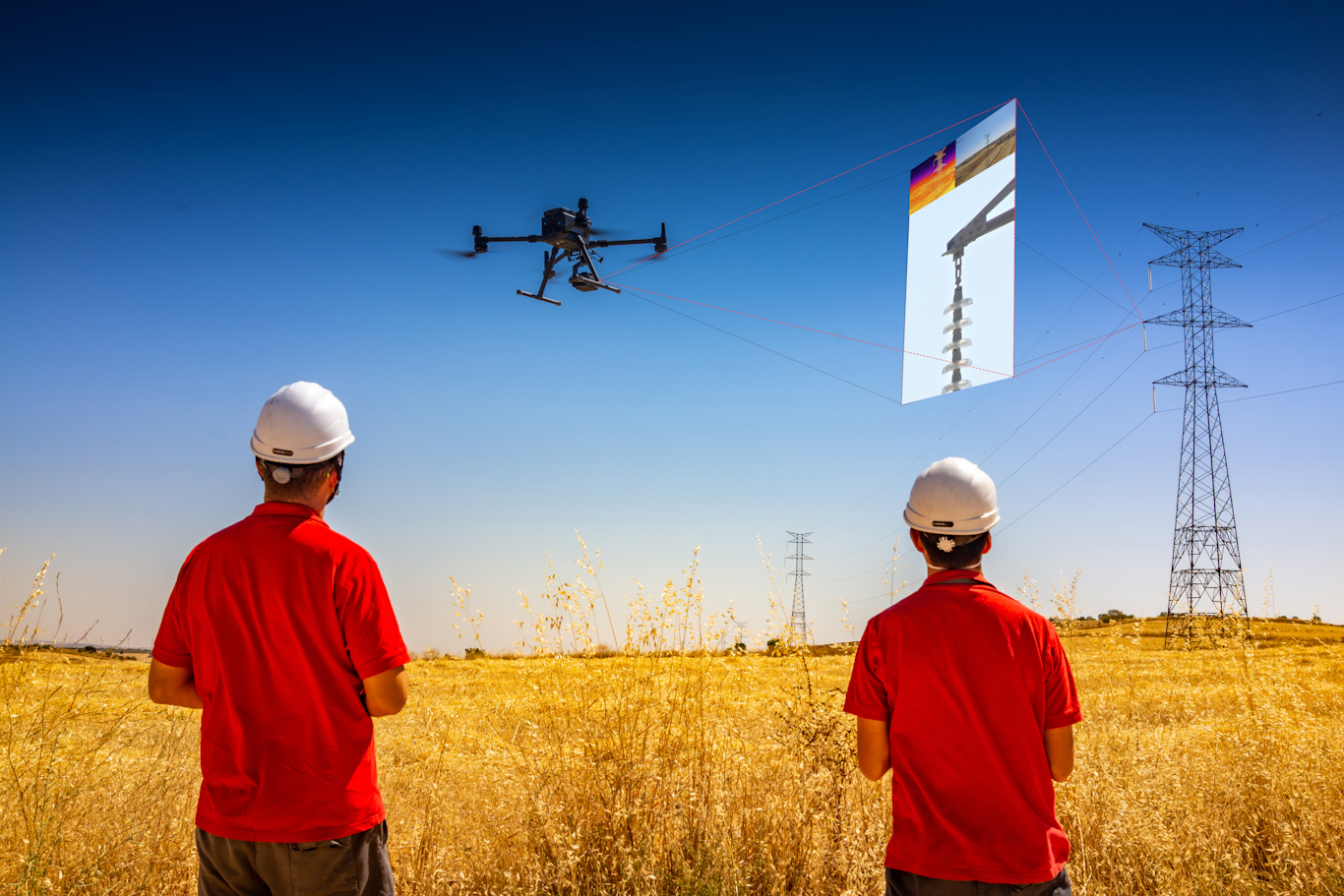 Drones

 
In 2020, the O&M department has flown over more than 2000 High Voltage Lines with drones for maintenance; and more than 2.5 GW of thermography of Photovoltaic Solar Plants.
It is immersed in an R&D+i project. Project based on the design and development of an innovative Intelligent Management System for Maintaining Photovoltaic Plants and High Voltage Lines and Analysing Forest Masses in High Voltage Lines (SGIM). This project seeks to obtain a Cloud platform that will have functional specifications based on the development of technologies. Technologies including Deep Learning and Artificial Intelligence, as well as LiDAR and PNOA technologies and photogrammetric and thermographic techniques. It will be able to manage equipment and facility maintenance in the project's two application areas. It will do so through optimal monitoring using drone flights. Finally, there is the STAR Project. A remote management system for Iberdrola Distribución's automated network. Through this system, more than 30,000 actions have been carried out in Transformation Centres since 2012, with advanced supervision of remote management of the network.