The newspaper Expansión has published an article about our company entitled: "Eiffage Energía building the future". The text reviews the company's sustainability strategy.
As part of this, it highlights our strategic vision of the ecological transition and a low-carbon model, as well as the qualitative leap that drives our goal of achieving zero emissions.
As part of this commitment to sustainability, the business newspaper defines us as a benchmark company for supporting and accompanying companies in the implementation of greener solutions.
Islazul shopping centre
As an example, emphasis should be placed on one of our projects which is currently being implemented at the Islazul shopping centre, located in Madrid, and which is a benchmark for sustainability, both in Spain and abroad. The project is a decarbonisation plan, in conjunction with Cushman & Wakefield, to achieve zero emissions by 2030. It is yet another step forward for this shopping and leisure venue, which already achieved the highest BREEAM certification score in the retail sector; the double rating of outstanding; and it has been nominated for the prestigious BREEAM Awards in 2022.
Sustainable construction
Similarly, another of our highlights is sustainable construction, to which we are committed through out subsidiary Conscytec. Industrialised construction methods along with a contra-laminated timber (CLT) frames, prefabricated bathrooms and façades with timber trusses. This is a milestone that represents a radical change and improves project management; reduces construction times; considerably reduces the volume of waste and improves health and safety in construction.
In the sustainable mobility sector, the article highlights how the group is a leader in the installation and integration of electric vehicle charging infrastructure. This is demonstrated by over 1500 charging stations installed throughout the country, as well as the construction of the largest electric vehicle charging station in Spain.
In addition to rating us as one of the world's leading energy companies, Expansión highlights that the group is immersed in the development of green hydrogen from electrolysis, as the energy vector of the future to decarbonise sectors such as heavy transport and industry.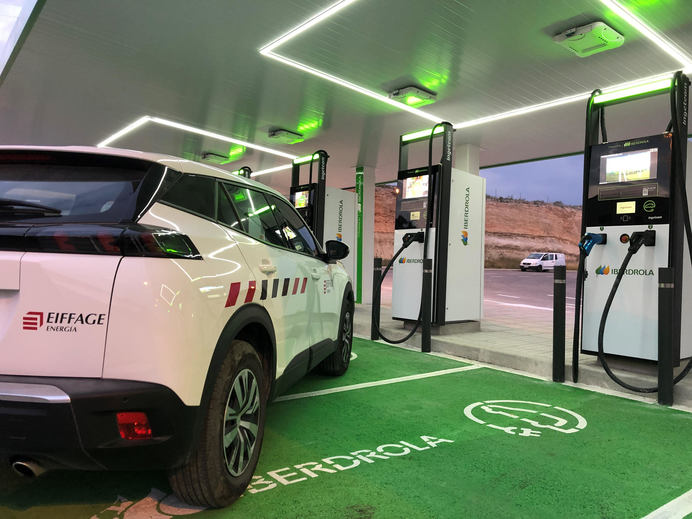 Resilience and proximity
Lastly, it places an emphasis the solutions of Eiffage to offer all of the necessary tools to develop more resilient and sustainable environments, combining proximity and responsiveness, expertise and a global approach to needs.
Read the full article in Expansión